Royal Portable Toilet Rental
1864 Effie St, Los Angeles, CA 90026, USA
(213) 278-1522
Are you looking for an affordable porta potty rental in Los Angeles? Look no further than Royal Portable Toilet Rental! We provide top-notch service and the lowest rates around. Our mission is to make sure all of our customers are satisfied with their purchase. With us, you can rest assured that your portable toilet needs will be taken care of quickly and efficiently.
Porta Potty Rental Los Angeles
Whether you're planning a large event or just need some extra sanitation solutions for your home, Royal Portable Toilet Rental has got you covered. We offer free delivery and pick up services as well as competitively priced rentals, so you don't have to worry about breaking the bank. Plus, we guarantee our products are always clean and sanitary – perfect for any occasion! At Royal Portable Toilet Rental, we strive to meet all of your portable restroom needs at prices that won't break the bank. With years of experience in providing quality porta potty rentals across Los Angeles, you know that when it comes to restroom solutions, we've got them covered – without compromising on comfort or convenience.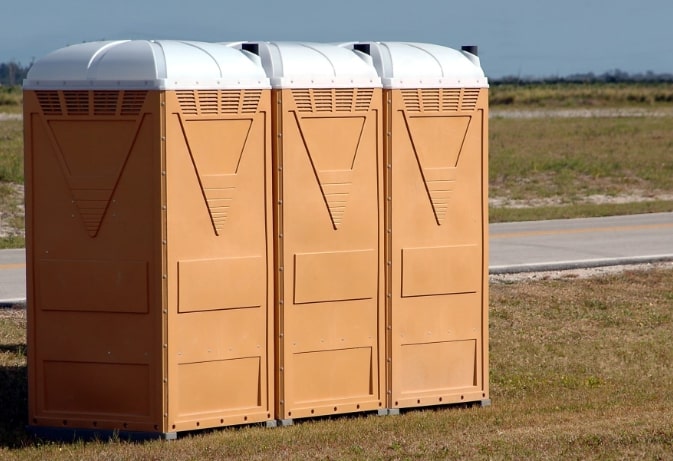 Portable Restroom Rental Options In Los Angeles​
Royal Portable Toilet Rental offers a variety of porta potty rental options for your event in Los Angeles. Our portable restrooms are available in many sizes and styles, to meet the needs of any type of gathering or event you may be planning. We offer both standard and deluxe models, which can easily accommodate large crowds at festivals, concerts, family reunions and more. Our rental units come with features such as handwashing stations, mirrors, lights and other amenities that make them comfortable for your guests. We also have luxury restroom trailers available for larger events. These feature full climate control inside each unit—including air conditioning and heat—as well as private stalls with flushing toilets, running water sinks and separate men's and women's areas. Whether you need a basic model or something more luxurious, we have an option to fit your budget. For those seeking additional sanitation services like special cleaning supplies or additional trash cans/bags, Royal Portable Toilet Rental has it all covered! We provide complete maintenance packages so you don't have to worry about keeping your portable restroom clean during your event. All our rental units come with free delivery and setup within the local area so you can rest easy knowing everything is taken care of before your big day arrives.
Restroom Trailer Rentals For Weddings And Events In Los Angeles
Royal Portable Toilet Rental offers restroom trailer rentals for weddings and events in Los Angeles. Whether you need a luxury restroom trailer or just want to rent porta potties, Royal has the perfect solution for your special event. Our luxurious restroom trailers come with all the amenities that you would expect from a five-star restroom experience such as air conditioning, running water sinks, plenty of lighting, and flushing toilets. We also offer portable hand washing stations so guests can stay clean at outdoor events. And if you're looking for something more traditional, we have standard porta potty units available as well. We understand how important it is to provide quality restrooms for your wedding or special event in Los Angeles. That's why Royal works diligently to ensure that each rental meets our high standards of excellence. From delivery to setup and removal after the event is over, our team will take care of everything so you can focus on making sure your guests are comfortable and happy! So don't wait – contact us today to learn more about our bathroom trailer rentals and find the right option for your next big occasion.
Wide Range Of Rental Options For Portable Restrooms In Los Angeles
Royal Portable Toilet Rental offers a wide range of porta potty rental options in Los Angeles. We offer self-contained units, which include restroom and sink, as well as our standard portable toilets for short or long term rentals. Our selection includes handicapped accessible restrooms, holding tanks and luxury models to meet your needs. We also provide services such as cleaning, delivery and setup to ensure you get the most out of your rental experience. All of our equipment is locally owned and maintained so you can be sure it's always clean and up to date with safety standards. When ordering porta potties from Royal Portable Toilet Rental, we put customer satisfaction first. 
You can rest assured that all of our staff are fully trained to handle any situation related to providing high quality service on time and within budget. We'll work with you every step of the way from pre-ordering through post-rental follow ups – ensuring that everything runs smoothly during your event or project. Whether you're renting in Indianapolis or Los Angeles, you can trust us to provide reliable porta potty rental solutions at an affordable price. 
At Royal Portable Toilet Rental, we understand how important it is for customers to have access to reliable sanitation services when they need them most. That's why we strive to provide premium quality products along with personalized attention throughout the entire order process; this guarantees that everyone gets exactly what they need in an efficient manner while keeping costs low. With fast response times and great customer service, look no further than Royal Portable Toilet Rental for all your sanitary requirements!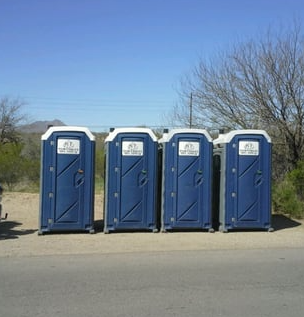 Contact Us For Portable Restroom Rental Los Angeles Inquiries
Are you in need of portable restroom trailer or porta potties for your event? Royal Portable Toilet Rental is the perfect choice to make. We provide affordable services and have a variety of options available to meet all types of needs.
Contact us today if you are interested in renting our equipment, and we'll be happy to answer any questions about the rental process. Here's what you can expect when you reach out:
A detailed explanation of our rental period, pricing structure, and delivery schedule;
An overview of different units that may fit your needs;
Assistance with determining which unit will work best for your specific needs;
Guidance on how many restrooms would be sufficient for your event.
We understand that planning an event can be overwhelming, so let us help take some stress off your plate by providing reliable potable toilets! Our team is friendly and knowledgeable and ready to assist you with whatever questions or concerns arise during the rental process. Reach out today and get started making sure everyone has access to clean restrooms at your next outdoor gathering.
Frequently Asked Questions
How Much Does It Cost To Rent A Porta Potty In Los Angeles?
If you're looking to rent a porta potty in Los Angeles, you may be wondering how much it will cost. The answer depends on various factors such as size, number of days needed, and location. To get the most affordable rate, here are some tips:
Find an established company with years of experience in portable restroom rental:
Check their customer reviews and ratings online
Ask around for personal recommendations from friends or family who have used similar services before

Compare prices between multiple companies to make sure you're getting the best deal possible

Consider adding additional features like hand sanitizer stations or air fresheners that can help improve your guests' experience without drastically increasing costs.

Look into renting a mobile restroom trailer for large events if budget allows – this might reduce total costs by providing more facilities per unit than traditional porta potties
Research discounts or promotional offers available through certain vendors to save even more money
When searching for the right porta potty rental service in Los Angeles, it's important to do your research. Taking the time to compare prices and find out which options are best suited for your needs will ensure that you get the most bang for your buck when it comes to afforable rates.
Do You Offer Any Discounts Or Promotions On Porta Potty Rentals?
At Royal Portable Toilet Rental, we understand that renting a porta potty in Los Angeles can be expensive. That's why we offer discounts and promotions on our services to make sure everyone has access to affordable porta potty rentals. So if you're looking for great deals on your next rental, read on to find out what promotional offers we have available!
First of all, our seasonal special provides customers with 15% off their order when they rent two or more portable toilets for three days or longer between Memorial Day and Labor Day. We also have an early bird discount which gives customers 10% off their total bill when they book at least five days before the date they need the units delivered. Additionally, customers who refer us to someone else will receive a $25 credit toward their next rental.
We also partner up with local businesses and organizations throughout the year in order to provide exclusive savings opportunities. If you're part of such a group, contact us directly to learn more about how you can take advantage of these specials. Lastly, don't forget to follow us on social media as we often post promotional codes that can help reduce the cost of your rental even further!
With so many great ways to save money on your next porta potty rental, there is no reason not to get started today! Our team is always here to answer any questions you may have and help ensure that you pay the lowest price possible for top-quality service. Contact us now and let us know how we can best serve you!
Is There A Minimum Rental Period For Porta Potties?
When it comes to renting out porta potties, there are a few things to consider. One of those factors is the minimum rental period for the portable bathrooms. This can vary depending on your needs and location, so it's important to ask about this upfront.
Here are 3 key points related to minimum rental periods:
Most companies have a one-week minimum rental time frame when it comes to porta potty rentals.
If you need more than one week but less than four weeks, many companies offer mid-term rates that fall between their weekly and monthly rates.
It's always best to call ahead or check online with multiple vendors in order to get accurate information and pricing options before making any commitments.
No matter what type of event you're hosting or how long you'll require the porta potty services, understanding the rules regarding rental length and finding the most cost effective option will help make sure your experience is hassle free from start to finish. Researching different vendors in advance allows you to compare prices and find the right solution for your situation quickly and easily without breaking your budget!
How Quickly Can You Deliver Porta Potties To My Location?
When you're looking to secure a porta potty rental for your event or construction project, one of the most important questions to consider is how quickly can it be delivered? When time is of the essence, you want to make sure that there won't be any delays in getting your porta potties on site and ready for use.
At Royal Portable Toilet Rental, we understand just how vital it is to have the right number of portable toilets delivered as quickly as possible. We prioritize speed and promptness; when you call us with an order, our team will work hard to ensure that your units are dispatched within 24 hours so they arrive at your location in no time.
Our unmatched customer service also comes into play here – we'll keep you updated throughout the entire delivery process from start to finish. Give us a call today if you need fast and reliable porta potty rentals in Los Angeles!
Do You Provide Any Additional Services With Porta Potty Rentals?
At Royal Portable Toilet Rental, we understand that customers may need additional services when they rent porta potties. That's why we provide a range of options to make sure your event runs smoothly and everyone is comfortable.
Our services include:
Sanitation supplies refill/replacement
Cleaning services between each use
Scheduling deliveries at specified times
Onsite attendants for maintenance or assistance
Temporary fencing rental for security
We also offer flexible rental periods so you can choose the length of time you need the porta potty for your location. Our team will deliver it quickly and safely so there are no delays in setting up your event. The delivery crew will ensure everything is placed correctly before heading off to their next job.
To keep our portable toilets looking great and functioning properly, we inspect them regularly and perform any necessary repairs or replacements. We take pride in providing top quality service that puts customer satisfaction first – from initial contact all the way through to pick up after the event has finished. So whether you're hosting an outdoor wedding, music festival, sporting event or construction site, Royal Portable Toilet Rental can help make sure all your needs are met with ease.